Funcom - 5 dagar kvar till stort spelsläpp
2018-11-29 09:56
Please note: Community posts are written by its members and not by Redeye's research department. As a reader you're always encouraged to critically analyze the content.
Den här texten kommer endast avhandla Funcoms spelsläpp "Mutant Year Zero - Road to Eden" som släpps på tisdag 4 december till PC, PS4 och XBOX. Spelet har mottagits extremt väl av både branschpress och spelare, och det bör finnas goda förutsättningar för en lyckad launch. Samtidigt har aktien varit pressad en tid och då den ligger på Oslo börs så känns det som många missat spelsläppet, vilket kan betyda att det är god tid om man vill köpa in sig.
Om "Mutant Year Zero"
(text från FZ.se - https://www.fz.se/nyhet/277970-funcom-visar-upp-20-minuter-gameplay-fran-mutant-year-zero-road-to-eden)
En anka, ett vildsvin och en människa (?) går in på en bar..
I slutet av februari avtäckte Funcom det svenskutvecklade, Xcom-doftande Mutant Year Zero: Road to Eden, vilket baseras på Fria Ligans bordsrollspel Mutant: År Noll. Avtäckandet möttes av jubelrop här på FZ, och sedan dess har vi blivit bjudna på läckra trailers och gameplayklipp från spelet.
Men Funcom stannar inte där. För en stund sedan dök ett 20 minuter långt videoklipp upp på norrmännens Youtubekanal, där vi både får ta del av utforskande i realtid och spelets tur(ordnings)baserade strider. Om du vill dyka in i spelet helt oförberedd på handlingen vill vi lyfta ett varningens finger, då vissa detaljer går att snappa upp från dialogen mellan karaktärerna.
Mutant Year Zero: Road to Eden släpps den 4 december i år och kommer till PC, Xbox One och Playstation 4. För utveckling står den nystartade svenska spelstudion The Bearded Ladies.
Mottagande av pressen
PC Gamer:
It's fun, funny, and the combat is challenging from the get-go
A pig, a duck, and a mutant lady walk into a camp full of angry ghouls. There's no punchline—just a game over screen, because those ghouls lit me up with rifles and molotovs before I got a chance to move. Dux? Barbecued. Bormin, my gruff boar scavenger? Skewered. Selma? Also barbecued. Look, these ghoul guys live out in the Zone, what survivors in Mutant Year Zero call the wasteland of this particular post-apocalypse. Point is, they don't discriminate who they set on fire.
Gamezone:
Mutant Year Zero: Road to Eden has a lot of heart but also guts
I was thoroughly hooked on the story and wanted to know more about the world and its secrets. Clearly, there is more in this world than just a wasteland. With an early-point taste of the game, many interesting skills were out my reach but just reading the descriptions were enough to fantasize about tactical applications and new ways to approach combat. In terms of polish and performance, Mutant Year Zero is already up to a high standard, and with about a month left in the oven, it should get even better.
MMORPG:
Not So MMO: Mutant Year Zero: Road to Eden – First Impressions
Right off the bat, the game is sort of a blend of story-based exploration and XCOM-like turn-based combat. That's different enough, but your main characters for the story are a very Howard-like mutated duck and tanky mutated warthog that could easily be working with the Foot Clan. The two are far more serious-minded than the characters they resemble, however. They do joke and the game's not short on puns, but the devs did a really good job of setting down a layer of humor that feels appropriate to the game.
Techraptor:
Embrace Your Post-Human Inner Beast in Mutant Year Zero: Road to Eden 
Smack-dab in the middle of a patch of woods, I took control of Bormin and Dux. It's easy to guess who's who I'm sure. The lovable critters are stalkers in the Zone. Sounds familiar? It should. It looks more like a tip of the hat to S.T.A.L.K.E.R. rather than shameless imitation. In any case, they are out on a seemingly mundane foray for scraps. Bormin doubles as a gravelly and dismal narrator, a kind of post-human Epic Voice Guy. Dux is more of a daffy little bastard, a comic relief foil in contrast with Bormin. The interplay between the two characters fits the setting.

They move and explore the levels from a top-down real-time mode at first. When they encounter hostiles you get to turn-based combat that will inevitably remind most players of XCOM. The influence is obviously there, but Mutant is decidedly simpler and doesn't feel bogged down by complex details. It's a clear and humble quality in an indie game that couldn't support the cumbersome maintenance of a full-on XCOM clone. The combat feels effective and polished, and that's more than you can ask from a beta.
Critical Hit:
Mutant Year Zero: Road to Eden is ducking hard, and that's the way I like it 
Based on the Swedish pen and paper game, Mutant Year Zero makes no bones about what kind of game it wants to be: Duckin' hard, unforgiving if you make a single blunder and placing an emphasis on sticking to the shadows so that you can set your characters up in the perfect position to carry out an ambush.

With a development pedigree that stretches back to the original Hitman games, that stealth aspect feels like a natural marriage to the ideals of XCOM and its turn-based strategy. You're still going to be calculating every single move that you can make, from the chances of landing a deadly critical hit (Hello!) to just how effective that brick wall is going to be when you take cover behind it.

That melting pot of diverse gameplay elements feels right, the in-game chatter between the core group of characters livens up a world that is teeming with danger and the idea of a smaller core group whose growth you can customise makes the game feel more intimate in its design. Unless you choose the permadeath option that is, you mad masochist you.
Gameskinny:
Mutant Year Zero Beta: Our First Look Impressions on Turn-Based Mutant Mayhem 
It's hard to overstate how much I enjoyed this blend of real-time and turn-based systems. It fixes one of the biggest problems with X-COM: the inability to precisely position your troops for an effective ambush while retaining the ability to move quickly if the enemy changes position.

In games like this, where you're consistently outnumbered and outgunned, planning and position are of the utmost importance, and I greatly appreciated being able to move about freely.
Gamecritics:
Mutant Year Zero: Road To Eden Preview
This sense of being in a lost world to be explored drew me in. I don't expect the full experience to deviate much from what I've seen, but I've always enjoyed the concept of 'lostech' and seeing a group try to make sense of discovered items that modern people find mundane always brings a smile to my face.
Polygon:
XCOM-like Mutant Year Zero: Road to Eden preview highlights novel stealth mechanic 
The hook in Mutant is the ability to hide your soldiers behind cover. Each mission starts out with a free-roaming, real-time phase where you can explore the map and spy on your enemies at range. Some of those enemies will go on patrol and, by moving your soldier along behind them, you can get surprisingly close. Then, with the tap of a button, you can have your soldier hiding behind a tree or a rock. Once the enemy turns around, walking their patrol in the other direction, your soldier can ambush them from behind dealing extra damage.

Even more entertaining, once the trap is sprung, and so long as the other enemies on the map haven't been alerted to your presence, you can reset your team. Once back in the real-time mode you're free to keep exploring or searching for the next place to set a trap.
Mottagande av spelare
Läser man kommentarer på Youtube, Steam och i branschpress så är det inte en överdrift att säga att minst 95% är extremt positiva. Man kan jämföra detta med t ex Starbreeze OTWD där jag estimerar att runt 30% var positiva i kommentarerna innan launch. Nedan är ett par länkar till trailers eller gameplay där jag tipsar om att kika in kommentarerna för att få en känsla av spelets mottagande.
Trend på Steam
Deluxe-versionen ligger när detta skrivs på plats #37 på Steams Globala Topplista och har avancerat kraftigt senaste dagarna. Anledningen att Deluxe ligger före den vanliga versionen är förmodligen pga om man äger Deluxe så får man tillgång till hela spelet redan på fredag kväll (30 november).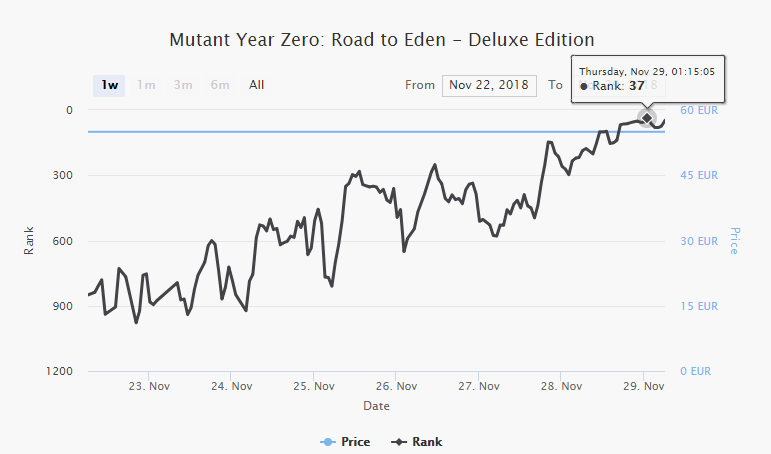 Slutsats, värdering och risker
Observera att hela nedan text är tagen från: "Funtocom" tidigare analys här på Redeye (https://www.redeye.se/arena/posts/funcom-q2-komentar).
2018 Resultat
Sammanslaget tror vi att vi slutar året med ett rörelseresultat på 14.6 MUSD eller ca 120 MNOK. Då vi går in i 2019 med en kassa på över 250 MNOK. Ett conan exile med över 2 miljoner sålda och en stabil spelarbas, som kommer köpa DLC och eventuella expansioner. Mutant är en joker bli det en succé är det väldigt lämpat för utbyggnad och portning till Switch. Lägg på de 5 produkterna som är under utveckling så tycker vi att ett P/E på 25 är befogat och är under de flesta bransch kollegorna i Sverige.
Kassan
En annan viktig aspekt i bolaget är kassan som är väldigt stark, i utgången av Q3 låg den på 18 MUSD men därtill skall 7.5 MUSD läggas på som enligt rapporten kommer in i Q3. "The cash inflow during 2Q18 was USD 1 718 thousand. Significant revenue from the full launch of Conan Exiles had not been received at the end of the quarter, as indicated by the trade receivable of USD 7 530 thousand."
Vilket gör att vi idag egentligen sitter på en kassa på ca 26 MUSD och med våra estimat då kunna öka med ytligare 8 till årets slut. 
Att kassan är stark är viktigt, det minska risken för NE samt att bolaget inte behöver ta dyra lån. Även har de större svängrum för investeringar och uppköp. Även när man ta fram nyckeltal som EV/EBIT där kassan dras bort från bolagsvärdet. Tex idag med en kassa på 200 miljoner har vi ett
EV/EBIT = 10 (1200/119)
Slutsats
P/E 25: Bull: 34, Base 29, Bear 24
Med 25% bolagsskatt ger ett EBIT på 120 ett resultat på 89 miljoner och P/E 25 ger då ett BV på 2.200 Miljarder och en kurs på 29 NOK. Vi rekommendera således köp, uppsidan även vid konservativ försäljning på Mutant anser vi hög. Blir Mutant sen en hit som tex "Battletech" som släpptes tidigare iår som är i samma genre. Vilken sålde 500K kopior på enbart PC, så annser vi att uppsidan såklart är ännu större och skulle innebära ett resultat på 101 MNOK och en värdering på 34 NOK . Om Mutant floppar och bidrar med 0 Kr når vi ändå ett resultat på 70 MNOK vilket skulle bära en värdering på runt 24 NOK.
Risker
Risker vi ser är dels att framtida spel kommer misslyckas, något de försökt mitigera genom att inte satsa på för stora produktioner samt tidigare få återkoppling från kunden, kortare produktioner på tex 1-3 år. Istället som tidigare då bolaget satsade på stora AAA produktioner med ledtider på ca 3-5 år. Annan risk är att bolaget handlas på den Norska börsen, mycket skumheter verka pågå och de kör med anonym handel. Det verka vara ett uppskattat av allehanda botar och stortraders. Det är lätt att ryckas med på pump och dump körningar, den slipade tradern finns det nog även pengar att hämta här på dags rörelse.
Observera att författaren själv äger aktier i Funcom och därför är partisk samt inte är en expert inom ämnet utan en privatperson med hobbyintresse inom sektorn. Gör alltid din egen värdering och bedömning innan du handlar med aktier.