Imint has signed a three-year license agreement with Hytera with an estimated order value of SEK 0.7 - 1.4 million, depending on the future number of products and functions. The agreement will initially cover video stabilization and reduction of video audio, and there is potential to add additional features.
Although the expected revenue is only a minor contribution to its revenue base, it proves that it can expand its offering to new units and industries. Costs related to adjustments and integration are expected to be lower as the customer uses operating systems and chipsets that Imint is used to work with, which is another positive factor.
The management states that the deal occurred by Hytera approaching Imint after finding them online. It clarifies that there is an interest in video stabilization solutions outside the smartphone market and further highlights the strength of Imint's online sales capabilities and its diversification in finding deals.
The market for body worn cameras is expected to grow rapidly in the coming years. Statista predicts that the market will grow from USD 387 million in 2017 to USD 990 million in 2023. It highlights that the market is substantially smaller than the smartphone market, but it is subject to higher growth and should provide better pricing prospects as competition is less fierce.
To our understanding, Hytera is a smaller player in the camera camera market and is launching its body worn products as late as 2018. Therefore, we believe that one should avoid drawing too big conclusions about the size of today's business, and we see good potential for bigger business in the future. .
We will not make any forecasts or valuation adjustments according to today's news. The move is in line with our investment thesis, and we expect it to be the start of several new offerings outside of smartphones.
Magnus Skog
Equity Analyst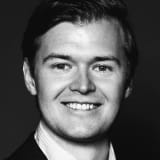 Dennis Berggren
Equity Analyst