Redeye comments on Active Biotech's Q1 report. After the end of Q1, results from naptumomab's phase I/IIa study with durvalumab were published which we discuss.
Naptumomab
New results from the phase I/IIa study combining naptumomab with durvalumab (PD-L1 blocker) were presented at the AACR meeting. The recommended phase II dose was reached at 10 mcg/kg, limited toxicity was shown and pre-treatment with obinutuzumab will likely reduce the formation of anti-drug antibodies and preserve naptumomab plasma levels. Despite a very difficult-to-treat patient group, early signs of efficacy were seen with two complete and two partial responses.
Tasquinimod & Laquinimod
New data from the ongoing study in multiple myeloma (a type of blood cancer) will be presented at the ASCO meeting in early June 2023. Interim safety and preliminary activity results will be presented both from the single agent arm and in combination with ixazomib, lenalidomide and dexamethasone (IRd). The phase I trial of laquinimod was completed in January, and a full analysis is ongoing. More detailed results will be published in H2 2023. A phase II study is scheduled for late 2023 subject to financing.
Lower Base Case
The cash position of SEK30m will last through 2023. Growth capital will be needed to maintain the progress of the unpartnered project portfolio. We push forward the projected launch dates of tasquinimod in MM and naptumomab in solid tumours by one year. Assuming some capital will be raised in 2023, our new fully diluted Base Case is SEK2.2 (3.0).
Key financials
| | | | | | |
| --- | --- | --- | --- | --- | --- |
| SEKm | 2020 | 2021 | 2022 | 2023E | 2024E |
| Revenues | 7 | - | - | - | 119 |
| Revenue Growth | (20.5%) | (100.0%) | N/A | N/A | N/A |
| EBITDA | (32) | (50) | (58) | (45) | 64 |
| EBIT | (32) | (50) | (58) | (45) | 64 |
| EBIT Margin | (482.1%) | N/A | N/A | N/A | 53.7% |
| Net Income | (32) | (50) | (58) | (45) | 64 |
| EV/Revenue | 35.6 | N/A | N/A | N/A | 1.4 |
| EV/EBIT | (7.4) | (4.4) | (3.7) | (4.8) | 2.5 |
Investment thesis
Three drug candidates with clinical data readouts and new trial initiations in 2023 will drive the share
Tasquinimod is developed as a blood cancer treatment. The combination arm of tasquinimod (with ixazomib, lenalidomide, and dexamethasone) in multiple myeloma (MM) is ongoing. We expect to see results from the dose-escalation part in mid-2023, after which the expansion arm (phase IIa) will initiate recruitment. The trial is externally funded. A proof-of-concept study with tasquinimod in myelofibrosis funded by the Oncode Institute will start in H2 2023. Laquinimod, developed for inflammatory eye diseases, has a new eye drop formulation that was proven safe in a phase I trial in early 2023. Active Biotech will attempt to seek external funding for the planned phase II trial late in 2023. The third candidate, naptumomab, a cancer drug, is outlicensed to NeoTX in a deal worth up to USD 71m with favourable royalty rates. Two clinical trials are ongoing: a phase IIa trial in NSCLC in combination with docetaxel (a chemotherapy) with a topline readout expected in 2023 and a phase Ib/IIa trial in combination with the PD-L1 inhibitor durvalumab with a phase II cohort in oesophageal cancer is planned to start in Q3. An advantage of Active Biotech over similar companies has been its ability to obtain external financing, or licensing deals, for its projects, leading to substantially lower costs than would otherwise be expected.
Repurposed, well-studied compounds reduce risks
The projects have undergone unsuccessful phase III trials, but have demonstrated some level of clinical efficacy. Its internal projects are first-in-class, have well-documented safety profiles, and generally allow for easy administration. Data from previous trials come from several hundred to more than a thousand patients, which can be referenced in the upcoming clinical trials, reducing the clinical risk and potentially cutting costs. Tasquinimod has orphan drug designation in MM and myelofibrosis.
Supportive Analysis
At least two out of ten patients responded in the interim futility analysis in the phase IIa trial conducted by NeoTX, which will thus continue recruitment (n=35).
Although the company uses its cash effectively and has external financing for many of its projects (including tasquinimod and naptumomab), the present cash position will likely only last the company through 2023. The current environmnent for raising cash is challenging, though Active Biotech has a strong ownership that has previously supported rights issues.
Active Biotech's project portfolio is still at an early stage of development. Consequently, there is a high risk of attrition, and timelines are still uncertain. Moreover, Active Biotech and its partner NeoTX are targeting competitive markets in cancer treatment with historically low success rates.
Large upside, risk spread over three projects
Our fully diluted Base Case is SEK 2.2 and includes the valuation of three projects. We assume a licensing deal for laquinimod worth USD125m with USD10m in upfront and 15% royalties; for tasquinimod we assume a licensing deal worth USD580m with USD30m in upfront and 15% in royalties.
Quality Rating
People: 3
Management consists of a small, experienced team with extensive experience in clinical and business development. The CEO was previously Chief Scientific Officer at the company and led the research and clinical development of Active Biotech's projects in neurodegenerative diseases and cancer. The board brings extensive and relevant international bio-pharma experience.
Business: 3
Active Biotech is a early to mid stage clinical-stage biotech company, developing first-in-class treatments in oncology and inflammatory eye disorders. Current commercial and academic partnerships enable low-cost development of tasquinimod (multiple myeloma) and naptumomab (solid tumors).
Financials: 0
Active Biotech has never generated any income from product sales and has not been profitable on an annual basis since 2001. The company raised SEK75m before costs for January 2021 in a rights issue. It raised SEK45m to fund operations in 2023.
Discussion
The main event after the quarter were the results were presented by NeoTX at the AACR meeting. We have now examined the abstract and poster. It was a comparably large phase I/IIa study with 19+7+33 patients (illustration below).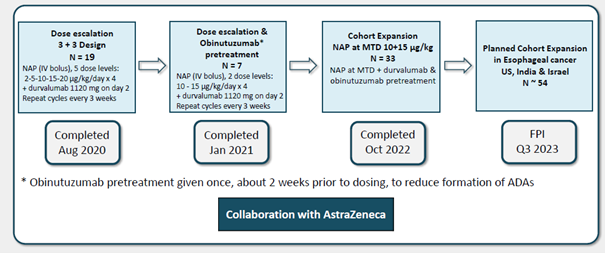 Source: NeoTX
The toxicity profile was favourable with mainly grade 1-2 adverse events (i.e. not serious) with no treatment discontinuation due to toxicity at the recommended phase II dose. Pre-treatment with obinutuzumab lead to a better plasma concentration of naptumomab. There were also some promising efficacy results. The two complete responses, one in pancreatic cancer and one in ovarian cancer, are interesting. In our original note, based on the AARC abstract, we calculated the disease control rate based on the total number of patients. We now have seen the poster. It is more correct to calculate the disease control rate based on the number of evaluable patients, which was 42. The disease control rate can thus be calculated as 19% (rather than 14%), and the objective response rate 9.5%, which looks somewhat more promising, considering the population recruited was very challenging to treat. 69% had pancreatic, ovarian or triple-negative breast cancers. These are aggressive cancers. Furthermore, patients had received a median of 3 prior lines of therapy. They were thus likely end-stage with a short remaining life expectancy. One would not expect a high response rate in such patients. It is, however, impossible to judge how much the PD-L1 inhibitor contributed, which, while usually not effective in this setting, can work for certain patients. Consequently, we do not change our estimates of naptumomab. The next step will be to recruit a cohort expansion in oesophageal cancer with around 54 patients starting in Q3 2023.
Furthermore, Active Biotech published new preclinical data demonstrating the mechanisms behind the anti-tumor activity of tasquinimod in blood-based cancers and NewTX published new preclinical data on naptumomab during the quarter.
Financial results
The company had no revenues in Q1. Operating costs were slightly lower than the previous quarter at SEK12m (the Q4 figure was 15) with a similar cash flow. The cash position at the end of the quarter was SEK30m (SEK42m).
Valuation
We have increased the development time of tasquinimod in multiple myeloma by one year, now assuming a market launch in 2029 (2028). We also assume a one-year later market launch of naptumomab in 2028 (2027). This, together with the smaller cash position, leads to a decrease in our Base Case to 2.8 (3.0). As the company's cash position only finances operations until the end of this year, we have included dilution assuming some capital will be raised in 2023, leading to a fully diluted Base Case of SEK2.2 (3.0, non-diluted).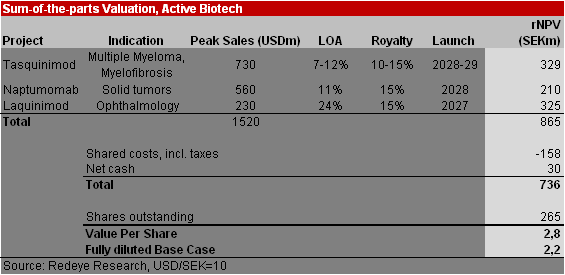 Our new Bull Case is SEK 3.2 and our Bear Case is SEK 1.3.
Financials
Income statement
SEKm
2020
2021
2022
2023E
2024E
Revenues
7
-
-
-
119
Cost of Revenue
-
-
-
-
-
Operating Expenses
39
50
58
45
55
EBITDA
(32)
(50)
(58)
(45)
64
Depreciation
-
-
-
-
-
Amortizations
-
-
-
-
-
EBIT
(32)
(50)
(58)
(45)
64
Shares in Associates
-
-
-
-
-
Interest Expenses
-
-
1
-
-
Net Financial Items
0.1
-
(1)
0.3
-
EBT
(32)
(50)
(58)
(45)
64
Income Tax Expenses
-
-
-
-
-
Net Income
(32)
(50)
(58)
(45)
64
Balance sheet
Assets
Non-current assets
SEKm
2020
2021
2022
2023E
2024E
Property, Plant and Equipment (Net)
-
-
6
6
6
Goodwill
-
-
-
-
-
Intangible Assets
-
-
0.2
0.2
0.2
Right-of-Use Assets
2
1
-
-
-
Other Non-Current Assets
-
-
0.4
-
-
Total Non-Current Assets
2
1
7
7
7
Current assets
SEKm
2020
2021
2022
2023E
2024E
Inventories
-
-
-
-
-
Accounts Receivable
0.28
-
2
1
10
Other Current Assets
4
3
-
-
10
Cash Equivalents
26
53
42
47
112
Total Current Assets
30
56
44
48
131
Total Assets
32
57
51
55
138
Equity and Liabilities
Equity
SEKm
2020
2021
2022
2023E
2024E
Non Controlling Interest
-
-
-
-
-
Shareholder's Equity
22
48
35
40
104
Non-current liabilities
SEKm
2020
2021
2022
2023E
2024E
Long Term Debt
1
-
-
-
-
Long Term Lease Liabilities
-
-
-
-
-
Other Non-Current Lease Liabilities
-
-
3
3
3
Total Non-Current Liabilities
1
-
3
3
3
Current liabilities
SEKm
2020
2021
2022
2023E
2024E
Short Term Debt
1
9
-
-
11
Short Term Lease Liabilities
-
-
-
-
-
Accounts Payable
3
-
-
-
14
Other Current Liabilities
5
-
12
12
6
Total Current Liabilities
9
9
12
12
31
Total Liabilities and Equity
32
57
50
55
138
Cash flow
SEKm
2020
2021
2022
2023E
2024E
Operating Cash Flow
(32)
(46)
(55)
(45)
65
Investing Cash Flow
-
-
(0)
-
-
Financing Cash Flow
(1)
74
44
50
-
Rating definitions
The team